580 Café
Career Closet
The Career Closet at UCLA serves as a resource of gently-used professional attire for all currently enrolled UCLA students. The Career Closet helps students with their professional dress needs for upcoming graduate school/job interviews as well as career fairs. Located approximately 10 minutes (walking distance) from campus, it is convenient and easily accessible for all students.
Economic Crisis Response Team (ECR)

The ECR Team is an online resource that offers options for on-campus financial assistance at UCLA for students who have been impacted by a current economic crisis. They also offer a Resource Guide which explores a variety of on- and off-campus financial resources.
If you are in financial distress please e-mail ECR@saonet.ucla.edu .
Economic Crisis Response Team Meal Vouchers Program
The meal voucher program is available to help support undergraduate and graduate students in financial need.
If you have never utilized the meal vouchers: Come to the BRC (SAC B44) front desk (or any of the other locations listed) to pick up a form. Be prepared to fill out the form and meet with a staff member to find out if you are eligible for the program.
If you have utilized the meal vouchers at least once: Come to the BRC (SAC B44) front desk to pick up a second form and get it signed by Financial Aid before meeting with a staff member. You will need to return to the BRC, or another of the listed locations, with the signed form to receive vouchers if eligible.
Most students are eligible to apply to this program for up to 3 quarters for a maximum of 11 vouchers each quarter. Undocumented students are eligible for up to 20 vouchers per quarter – no limit to the number of quarters. To be eligible for this program you must live off campus, not have a meal plan, and have utilized all financial aid options including loans.
Financial Aid

The Financial Aid Office provides students information regarding their financial aid award and how to maintain eligibility. Check out their FAQ section for general questions.
Connect with Financial Aid
Location | Murphy Hall, Suite A-129J
Hours of Operation | Monday - Friday: 9:00 am - 4:00 pm
Phone | 310.206.0400
Email | finaid@saonet.ucla.edu
Financial Aid TV (FATV)
Financial Aid TV (FATV) provides short, easy to digest videos explaining every aspect of the financial aid process. From short "what is financial aid" videos, all the way to step by step videos that will assist students in completing and submitting their financial aid applications.
These videos are available 24/7 to students and families and can also be used by staff across campus if they wish to better understand the financial aid process.
We encourage all Transfers to check out these videos to get their financial aid questions answered quickly and easily.
Financial Wellness Program (FWP)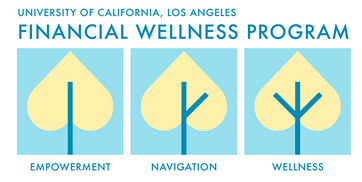 It is the mission of the FWP to help empower students to confidently navigate their finances to support their overall wellness and help them to be self-sustaining. They provide one-on-one problem-solving, workshops, and other financial education experiences.
Connect with Financial Wellness Program
Social Media | Facebook
Phone | 310.267.5855
Email | uclafinancialwellness@gmail.com
Food Closet

The purpose of the food closet is to provide food and sustenance for any UCLA students who might be experiencing hunger and/or struggling to attain food due to financial hardships. This wonderful resource is overseen by the Community Programs Office . They also take donations.
Location | 1st Floor of the Student Activities Center
Scholarship Resource Center (SRC)

The SRC helps students find scholarships they are eligible for and also provides workshops on how to go about applying for scholarships. SRC offers drop-in scholarship counseling, proofreading of essays, workshops, and more.
Connect with Scholarship Resource Center
Location | 233 Covel Commons 330 De Neve Dr.
Phone | 310.206.2875
Facebook | UCLA Scholarship Resource Center
Twitter | @UCLASRC
Student Loan Services

For information relating to your student loans, debt management, and loan consolidation Student Loan Services is the place to go. In a bind the loan service can also offer a short term loan that is interest-free to help out with unforeseen expenses.
Location | Murphy Hall, Suite A227